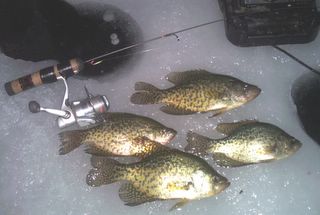 (Smallest one in the pic is exactly 9inches)

Yes Yes another night on the pond that I live on. Finally it was nice enough out that I drilled myself 4 more sets of holes; one to the North, one to the East, one to the West, and one to the South of where I've been the last few night.
I started in the same holes I've been fishing out of and probably made the mistake of staying there to long. I caught a fair number of small ones, but should have utilized the Prime time dusk bite to move, move, move. It was around 30degrees and I really should have tried to scare up a hot hole, but instead I spent the 1st 45 Minutes from probably 5:45 to 6:30 on that spot. Finally I went to the North hole and got into some little dudes right away. Managed to get 1 that was almost 10. After that hole slowed down or was only giving up smaller fish I went East. I got a few small one's but it was really slow. I then went to the South hole and marked a few but they wouldn't bite, so I went fairly quickly to the West hole.
On the West hole it took a little while but fish started coming in on the bottom and suspended about 12-16ft over 22ft of water. The higher up fish were bigger, but I kept dropping the better one's. I probably lost 5 good one's just before they came into the hole and the one's I did catch that were suspeded were mostly just short of 9", my minimum keeper size. I stayed at it and eventually landed 4 Keepers along with a few shorts. I stayed out past 11PM and had a pretty good bite in that Western most hole set from about 9:30 to 10:00 with even a couple of doubles.
I was using large minnows under the bobber and mid sized minnows on the jig line, of coarse with Custom Jigs Glow Demons.
For more reports on what I've been catching this week hit the
BP Fishing Log Blog
.