Daily Pro Site-ING=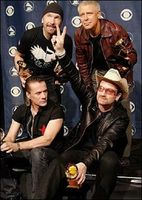 U2 steal the spotlight at Grammy awards
This is fine with me. (
U2
is the BP's favorite band after all; I am listening to Rock Album of the Year, "How to Dismantle...", right now.
Daily Pro Site-ING (Bass Pro)=



David Fritts the consummate and probably ultimate crankbait fisherman. On Day 1 he came in tied for 10th at Lake Murray.Update: The wheels come off Fritts on Day 2. Full Bassfan Day 2 Lake Murray round up.
FBF Lake Murray Day 2 Update: The Thrill is gone as Fritts, Nixon, Walker, and Davis all stumble. Boo Hoo! Catch the Full Posse Day 2 round up.
Favorite Fish: Pete at Fishing Jones votes Pike.
Why? My blog will never be as good as Moldy Chum AND why I fish for fish smaller than me.
Daily BP reading assignment:Daily Bassdozer Article:
Turn Christmas Trees into Brush Piles By Paul Crawford
Daily Ultimate Bass Fishing Resource Guide Article:
Cold Water Lunkers by By Dean Stroman