Actually this:

...Is my biggest bass of the last couple years. She measured in at 21.5 and I would guess was in the high 5's; She hit a Sizmic Toad fairly close to the boat. It is the second biggest I've caught out of Platte. I caught a 21.5"er that was much thicker and probably went mid-6's two years ago.
This bass was one of those fish that fools you. I thought I had a little pike swirling at the frog in a tease. Fortunatly I decided not to pull it away and kept baiting it. I did this for a good 30feet, before it finally sucked it in; all the while I thought it was just a slimer. It was about 10 feet from the boat when it took the frog and I set the hook, all I saw was head and mouth of a big bass. I was using heavy tackle in fairly heavy but dying cover and so I horsed it right to my awaiting hand.
As long as I'm on big fish Here's two I caught on Platte the night after this years September Tournament debacle on Platte/Sullivan: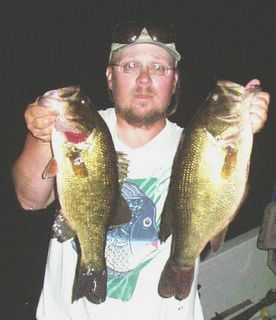 The big fish was only 19.75 but weighted 5lbs4ozs. The smaller fish is a regular sized mid 3lb 18" Larry. I got the big one under a dock that I just hammered to no avail on the previous tournament day; Got her on a SnagProof Bobby's Perfect Frog on one serious swirl. Sometimes you know they are big and sometimes you don't.